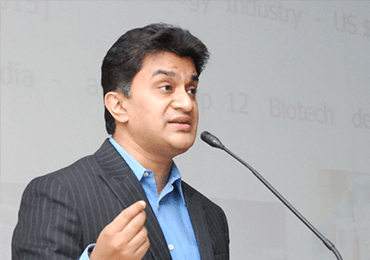 Vice Chairman
Dr Sanjay M. Cherian
Our Vice Chairman, walks the footsteps of his dad, mentor and guide, Dr.K.M.Cherian. The talented young CEO is also the Vice President of Frontier Lifeline (Dr K M Cherian Heart Foundation).
He completed his schooling and passed out of Don Bosco Egmore, with flying colours as an eminent topper, completed his MBBS from Manipal University, followed by his Masters and higher surgical training from Australia, and from the Royal College of Surgeons, UK. He is the youngest recipient of the Ph.D., in Cardiac Surgery from the Tamil Nadu Medical University. He is also the Best Outgoing student from the MBA Program at Oxford, UK and also holds a Healthcare Management Certificate from the Harvard Business School, USA.
He is the winner of several awards such as the "Best Presentation Award" from the Royal Austral-Asian College of Surgeons, and the International Union of Angiology, and the Post- Doctoral Research Grant from the Department of Bio-Technology, Government of India.
He also holds Professional Accreditation to several reputed organizations such as "The Society of Thoracic Surgeons", the "European Association of Cardio-thoracic Surgeons", The Royal Society of Medicine, and the "Chartered Management Institute", UK.
He took a year off from surgery to complete his management degree at Oxford Business School, U.K. in 2008-09, though it called for a major decision. At the heart of his decision was the desire to set right many administrative challenges that he faced in his life as a surgeon. Dr. Sanjay is a people person with the best interest of everyone in mind. He is a Tech savvy person with all the ultra modern management strategies up his sleeves and continues to be a source of inspiration to the aspiring students at The Study.